We found you to be very engaging of both the children and the faculty. We greatly enjoyed your show.
Linda Lange
West Point Child Learning Center
Lansdale, PA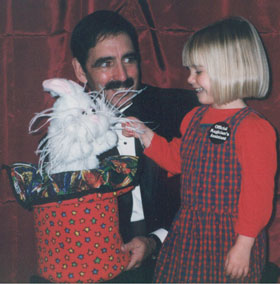 From School Fundraisers to Cub Scout Blue & Gold Banquets everyone enjoys the magic. The humor is light and simple and children of all ages, as well as adults, just love participating in the show. Each show is tailored for the appropriate age group. It's a variety show that will hold the audience's interest from the musical beginning right on through to the final illusion. You'll receive professional entertainment at its finest, and at a resonable cost. You deal direct with the entertainer; there is no agent or agency fee.